News
Journal of Arts & Communities special edition on Arts and Human Rights in partnership with Amnesty International
Monday, 22 August 2011
The Journal of Arts and Communities is publishing a special Arts and Human Rights edition in partnership with Amnesty International as part of the celebrations of the 50th Anniversary of the founding of Amnesty International.

The special issue will be launched at the Amnesty International Freedom of Expression Award at the Edinburgh Festival on 25th August 2011, and also at the Knowing Ways: Critical Learning in Arts Practice International Conference on the 8th-10th September 2011.
Each year at the Edinburgh Festival Fringe, the prestigious Amnesty International Freedom of Expression Award is given to a Fringe play that engages strongly with a Human Rights issue, as well as being of an outstanding artistic quality.
The Judges for the Award include Joyce McMillan, theatre critic and columnist for The Scotsman and Neil Cooper writer and critic for The Herald, who are Guest Editors for this special edition and Stephanie Knight, Associate Editor of Journal of Arts and Communities.

Two days and two interviews... Listen to Cynthia Weber tackle the difficult topic of what it means to be an American post-9/11 live on US national radio
Thursday, 18 August 2011
Renowned scholar Cynthia Weber is certainly no stranger to tackling difficult subjects, have a listen to the author's latest interview, this time on the nationally syndicated US radio show Dresser After Dark. Weber definitely pulls no punches as she discusses the highly emotive subject of what it means to be an American post 9/11.
Follow this link to listen to the interview now.
You can also listen to Professor Weber's previous interview with the US radio host Bill LuMaye of News Radio 680 WPTF. During this interview she discusses her book and documentary project, I am an American: Filming the Fear of Difference,

Click here to listen to an MP3 of the broadcast
Cynthia Weber is Professor of International Relations at the University of Sussex and Co-Editor, International Feminist Journal of Politics. Her book I am an American: Filming the Fear of Difference is published by Intellect.
Call for Papers – Issue 3 of The Poster
The Special Issue on the visual rhetorics of command and control
Friday, 12 August 2011
This call's theme:
Visual rhetorics are by definition in the business of persuasion: in both private and public spheres, such rhetorics attempt to change the behaviours of both individuals and groups. From the 'Stop' sign at the end of our street, through the visual and verbal warnings on packs of cigarettes, to the recruitment posters of our armed forces, common sense instruction blends into health-expert authority insistence and then into state invitations to die for one's country.

In this first special issue of The Poster, we invite contributions on the many and different ways in which visual rhetoric intends and is used to inform, instruct, persuade and control our lives.


The Poster asks:

Are all visual communications artefacts, at their core, attempts to control others?
Are some media forms and technologies more effective agencies for control than others?
Is it possible to have a rhetorically neutral communication?
Are there visual forms that indicate a form of visual persuasion as opposed to an honest source of information: or is the distinction impossible to make?
Who uses visual rhetoric in this way?
How may visual rhetoric be resisted?
Can we determine where and how informing turns into instruction and where instruction turns into compulsion?
From the point of view of authorship how the control is communicated to the public sphere? What are their "tools"
How does visual persuasion address ethical and moral issues?
Performance Paradigm review Christoph Schlingensief: Art Without Borders
Review by Bree Hadley
Friday, 12 August 2011
"Christoph Schlingensief: Art Without Borders, edited by Tara Forrest and Anna Teresa Scheer, is the first English-language collection of essays about this extraordinary German artist. As Forrest and Scheer suggest in their introduction, 'access to Schlingensief's highly challenging productions has been hampered by the fact that very little has been published on his oeuvre in the English-speaking world'. This collection aims to introduce English-speaking artists, scholars and academics to Schlingensief's extensive, experimental, and at times highly controversial body of work across film, theatre, television, live art and activism."
Film Matters and Zeitgeist present this year's frame analysis competition
Wednesday, 10 August 2011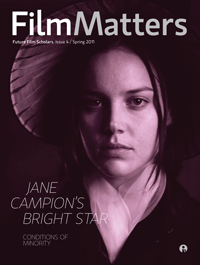 Intellect's journal, Film Matters has partnered with Zeitgeist Films to sponsor this year's frame analysis competition. Check out this link for all the details, and good luck!
July/August issue of The Big Picture Magazine now available
Friday, 5 August 2011
Good news film fans...
The July/August 2011 issue of The Big Picture Magazine is titled 'Food Glorious Food' and is themed around cinema's culinary associations from the obvious; fabulous feasts onscreen, to the Bizarre; Exloitation film posters of the 1970s, and the tenuous; Spaghetti Westerns.

Along with the usual roundup of regular sections, features include a photo essay about Gordon Brinckle - the simple man who built a Picture Palace in his basement, a look at the Wafer Thin Mint as gobbled by Mr Creosote in The Meaning of Life as an evocative cinematic object, a location focus on New York and 1000 words about the Dollars Trilogy and the birth of the Spaghetti Western.
Purchase a copy in print form direct from Magcloud

AATE conference 2011
Chicago 27-31 July 2011
Thursday, 4 August 2011
"I adore Chicago. It is the pulse of America." - Sarah Bernhardt
The American Alliance for Theatre and Education conference was held July 26-31st at the Renaissance Downtown Chicago Hotel. This 5-day event resonated with provocative performances, readings and technique-driven workshops. The conference drew 500 theatre educators, practitioners and performers from across North America and Mexico. To top it off, the fabulous weather turned Lake Michigan into a Midwestern version of the Riviera. Who knew one could enjoy a conference and a trip to the beach in a city filled with pinnacles of steel and glass?
The Applied Theatre book signing was a complete success. Juliana Saxton chatted with attendees, shared hard won advice and signed copies of her award winning book. At one point the signing was so popular it was difficult to spot the author in the mix! Other titles in demand included Modes of Spectating, Serious Play, and Theatre in Prison.
Thank you to the presenters, authors and journal contributors who came by to speak with Jessica and Amy. Many exciting book proposals were discussed and we look forward to reading these. Please check out the Publish with Us section on our website or email Jess or Amy directly to learn more about publishing with Intellect. Congratulations to AATE organizers for a great conference—and see you next year!
World Film Locations Launch Event
At the BFI South Bank Centre on Friday 30th September 2011
Tuesday, 2 August 2011
To celebrate the launch of our World Film Locations book series, Intellect are hosting a special event at the BFI, which will be held in the Blue Room at the South Bank centre on Friday September 30th 2011 from 7.30pm.
The event will include special guest speakers Scott Jordan Harris, Samira Ahmed, Pete Hoskin and series editor Gabriel Solomons. Please contact marketing@intellectbooks.com for more details.

About World Film Locations
World Film Locations is an exciting new book series published by Intellect that explores and reveals the relationship between the city and cinema.
From New York to Tokyo, each book in the series focuses on a specific city with a particular cinematic heritage. Alongside short bite-sized texts about carefully chosen film scenes, each book will be illustrated throughout with evocative movie stills and be complimented by short but insightful essays about themes, ideas and key historical periods relating to each individual city. The series includes contributions from some highly influential contemporary writers, including Scott Jordan-Harris, Marceline Block, Peter Hoskin and Samira Ahmed.


The city continues to play a central role in a multitude of films, helping us to frame our understanding of place and of the world around us. Whether as elaborate directorial love letters or as time specific cultural settings, the city acts as a vital character in helping to tell a story. Find out more...
Find World Film Locations on Facebook
Is Morrissey a genius or a crank?
Intellect author Eoin Devereaux gives his verdict in the Independent.ie
Tuesday, 2 August 2011
'What's eating Morrissey? Aside from the dog that reportedly took a chomp out of the bequiffed 80s indie godhead at the recent Hop Farm Festival in Britain, we mean. Always a bit of a contrarian, at 52 he is verging on full-blown grumpy old man...
"Morrissey is a welcome rarity," says Dr Eoin Devereux, a University of Limerick lecturer and organiser of several Morrissey and Smiths symposia. "He remains unafraid to speak his mind about many issues ranging from the parasitic nature of royalty, the brutality of the meat industry and the greed of the fast-food industry. Most of the time media coverage of him is inaccurate and cliched. What is not often commented upon is the way in which Morrissey has consistently written about an otherwise hidden experience -- namely working-class life. Songs like The Slum Mums and The Teenage Dad on His Estate present the perspectives of those who are all too readily written off in a media setting as scroungers and layabouts. Like Johnny Lydon -- another second-generation Irish singer -- Morrissey clearly does not worry about political correctness, which is refreshing."'
Click to read the complete article
Eoin Devereaux is the editor of Intellect's Morrissey: Fandom, Representations and Identities.